Note:
I received this book from Penguin Random House for an UNBIASED review. Receiving this book doesn't change my true opinion of the book whatsoever.
"Memories: some can be sucker punching, others carry you forward; some stay with you forever, others you forget on your own. You can't really know which ones you'll survive if you don't stay on the battlefield, bad times shooting at you like bullets. But if you're lucky, you'll have plenty of good times to shield you."
My copies of the book
This book/masterpiece is about a boy named Aaron Soto who lives in Bronx, in a one-room apartment where his father killed himself in the bathtub. Aaron finds it tough to live further with the bad stuff going on in his life so he attempts suicide too. But fortunately, he survives and continues to recover with the help of his patient girlfriend Genevieve.
Then, there is a new boy in the story - Thomas. He's sweet and doesn't mind talking about Aaron's past, on his rooftop where he sets up his projector to watch movies. On the basis of the three weeks Aaron spends with Thomas ,when his Genevieve goes for an art camp, he's confirmed that he has fallen for Thomas in a way he feels is not right.
This when Aaron decides to turn to Leteo Institute's memory-alteration procedure to turn-off these new-found feelings and forget that he's gay.
This is the [UNBELIEVABLE] DEBUT of Adam Silvera written extremely flawlessly while looking effortless. The characters are
very
powerful and have been written in a way that add to the perfection of this book. Aaron narrates the story such that any one who starts reading would be easily sucked in until the end where you just want to put down the book in front of you, kneel in front of it and clap while wiping off the tears it leaves you with. There is not even a single place in the book where you can say - this part could've been written better - which makes me give it all-aces.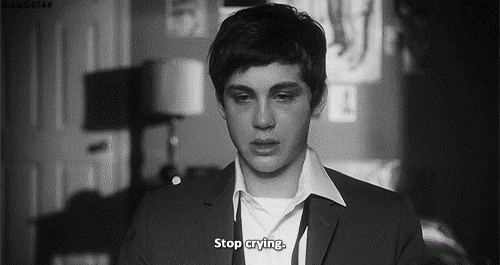 I'm so glad that the author cared enough to write this story and share it with us. Truly. It made me cry more than what I cried after watching
'The Notebook'.
What embroiders the perfection of this book is
its format
- the way it has been written in parts and the smileys... When I received this book I really praised the reviews and appreciation it received as a debut. Now, that I have finished it, I am one of the people in the crowd. Whenever I'll look at this book in my library, I'll be forced to look at it with my nostalgia of Aaron and his life, with teary-eyed smile.
CONCLUSION:
Indeed, it is the perfection of a book about a boy and his tale of realization and heartbreak, which needs to be read by every single person in the world as a necessity. Okay?